Gayle Harris & Maddie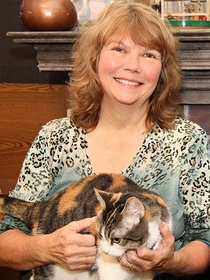 Books and Crannies is owned by Ron & Gayle Harris. Gayle manages the store and is there Monday, Tuesday, Wednesday and Saturday. On Fridays, she works at Silhouette Resale Boutique, a ladies upscale consignment shop which is located inside the Iris Theatre Building along with Books and Crannies. Gayle is a proud native Texan who grew up in Montague, Texas and attended Nocona High School and Dallas Baptist College. Her favorite authors include Dean Koontz, Brad Parks, Shirley Rousseau Murphy, J.R. Ward, Barb Hendee and Robert B. Parker.To contact Gayle, either call the store during her days there, or email her at books209@yahoo.com. She is always interested in hearing from customers.

Ron is a retired Dallas Firefighter, and currently works as a substitute teacher for the Wills Point ISD, and is quite involved with movies and television productions. He is a very eclectic reader who always has a book in his hands, and although his favorite authors change occasionally, he does enjoy especially Taylor Anderson, Robert Heinlein, Dean Koontz, Dean Ing, Pat Frank, Larry McMurtry, Gary Paulsen, John Dunning and many others too numerous to list!




---
Ruth LeVasseur

Ruth has been with Books and Crannies since shortly after Ron & Gayle bought the bookstore. She is pictured here with her sweet husband, Mike. Mike and Ruth are very "into" ballroom dancing. They have three very spoiled little dogs who share their home, as well as a big dog outside who acts as their alarm system when visitors arrive. They also have several Haflinger horses on their place just outside Terrell (who are also a little spoiled). Ruth loves to read just about any genre and will happily assist you in finding new authors. She loves introducing customers to an author they haven't tried. Ruth is in the store on Fridays, and whenever Gayle needs a day off.

---
Maddie is our resident kitty - having moved to Texas following Hurricane Katrina in 2005. We adopted her from Operation Kindness in Carrollton. She still has a little Cajun drawl in her meow, but is very happy with her position as official greeter at Books and Crannies. She will gladly help you make your selections or just keep you company while you shop. She is very much a "people kitty".
---